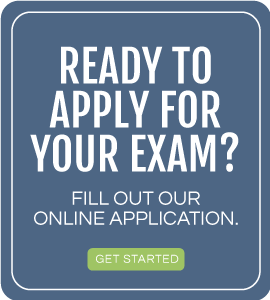 The Florida Chiropractic Laws and Rules Examination is one of the requirements for candidates seeking licenses in the state of Florida. Although the NBCE administers this exam, it does not certify or license chiropractors. Please contact the
Florida Board of Chiropractic Medicine
to verify current Florida licensure requirements.
These exams are offered at Pearson VUE testing centers throughout North America. After completing your application, the NBCE will e-mail you a confirmation. You will then have 6 months to arrange a testing appointment on a date that fits your schedule.
What is the Florida Chiropractic Laws and Rules Exam (FCLR)?
The FCLR Examination is required by the state of Florida and is offered at Pearson VUE centers throughout North America. It consists of 28 standard multiple-choice questions. Test items are selected by a test committee composed of chiropractors licensed in Florida. Test appointments are scheduled for one hour to allow time for a brief tutorial, 30 minutes of test administration time, and a post-exam survey.
Who can take FCLR?
To be able to take the FCLR Examination, you must have successfully completed Part I of the NBCE national exams.
If you receive a failing score, you can apply to retake the examination at your earliest convenience.
The NBCE does not limit the number of times you may retake the FCLR examination.
Once you are notified of your acceptance to register for the exam, you are eligible to test for a six-month period.
What reference material will help me prepare for FCLR?
Material covered on this examination can be referenced in the following chapters of the Florida Statutes and Administrative codes:
Florida Statutes:
Florida Administrative Code:
Can I see sample questions?
Sample questions are provided below. These questions are included only to provide you with examples of the type and structure of the examination questions. The answer for each question is in bold type.
When shall a license become delinquent if a licensee has not paid the biennial-licensing fee?
A.    Immediately after the biennial licensing period
B.     One month after the Department informs the Licensee of the possible reversion to an inactive status
C.     One year after the end of the biennial licensing period, if there is no notice to the Board that the license is going to be renewed
D.     Four years after the end of the biennial licensing period
According to Florida Statutes, the privilege of refusing to disclose confidential communications between patient and doctor may NOT be claimed on the patient's behalf by the patient's
A.     Attorney.
B.     Financial planner.
C.      Guardian.
D.     Psychotherapist.
Where can I take the FCLR Exam?
The NBCE offers FCLR at Pearson Professional Centers throughout North America. To locate a testing center near you, go to http://www.pearsonvue.com/nbce/ and follow the "Find a test center" link.
When will I get my FCLR score?
Within two weeks following the exam, the NBCE will post your score to your MyNBCE account. You will not receive scores at the testing center.
The Florida Board of Chiropractic Examiners requires a passing score of 75%. If you score below 75%, you will be required to retake the examination.