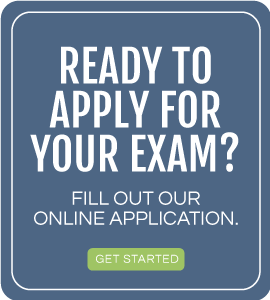 Who is eligible to receive test accommodations?
You may be eligible to receive test accommodations if you have a physical or learning disability. To determine your eligibility, see the guidelines for:
How do I request test accommodations?
Please complete a Test Accommodation Request by the application deadline. You will also be required to submit a disability report and an evaluator review form.
Do I have to request accommodations every time I take an exam, even though I was approved in the past?
Yes, you will need to fill out portions of the Test Accommodation Request every time you take an NBCE exam.
What is a disability report?
A disability report is written documentation of your diagnosis. The NBCE requires certain components to be present, depending on your disability. Please see the Guidelines for Acceptable Documentation inside the brochure for:
When should I apply for test accommodations?
We suggest submitting your request as soon as possible, as it can take up to 20 business days for the NBCE review process. If you would like to receive test accommodations for a certain administration, you must submit your request by the application deadline for that exam.
I was denied test accommodations, what can I do?
All test accommodation requests are reviewed on an individual basis and appropriate accommodations are granted if approved. If you are denied, you will be notified via email as soon as possible. To determine your eligibility, see the guidelines for information about denied requests.
I am not disabled, but I have a temporary injury that may affect my ability to take an exam. Can I receive test accommodations?
If you have a temporary physical limitation (such as for a broken limb) you do not qualify for test accommodations, but we may be able to provide a courtesy that will address your concerns. Please see the guidelines for more information.