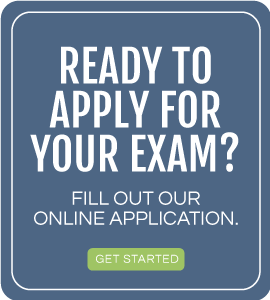 Physiotherapy Eligibility
GENERAL REQUIREMENTS
To be eligible to take the Physiotherapy Examination, you must have successfully completed 120 hours of instruction in physiotherapy, before the application deadline. This instruction must be taken at and/or recognized by one of the chiropractic colleges whose students are currently eligible to take the NBCE exams.
Physiotherapy may be taken individually or in conjunction with the NBCE Parts I, II and III exams.
STUDENT ELIGIBILITY
To establish initial eligibility for Physiotherapy, your application must be signed by the registrar of the college, or you must provide documentation showing completion of 120 hours of physiotherapy instruction.
DOCTOR OF CHIROPRACTIC ELIGIBILITY
A doctor of chiropractic who has never taken the Physiotherapy Exam must provide documentation specifically stating the completion of 120 hours of physiotherapy instruction or obtain the signature of a college official. A copy of one's doctor of chiropractic degree diploma may meet this requirement, depending on the curriculum of the school you attended. Please contact the NBCE Examinee Services Department for more information.
.
STATE BOARD REQUIREMENTS
The NBCE recommends a passing score of 375 for the Physiotherapy Exam; however, Individual states may require a higher passing score. For current information on state regulations pertaining to Physiotherapy scores, you must contact the licensing board of the state(s) in which you plan to practice.