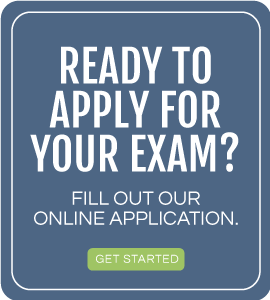 Part III Eligibility
STUDENT ELIGIBILITY
You must be enrolled in, or graduated from, an eligible chiropractic college to take the Part III Exam when you have passed all subjects in the NBCE Part I Exam and you are within nine months of graduation before the administration Part III. Online approval from your college is required for initial Part III eligibility.
DOCTORS OF CHIROPRACTIC ELIGIBILITY
The table below summarizes how doctors of chiropractic may establish eligibility for the Part III Examination.
When did you become a licensed doctor of chiropractic?
How do you establish eligibility?
On or before December 31, 1988

Provide a copy of your state-issued chiropractic license
There are no other prerequisites

After December 31, 1988

Provide a copy of your state-issued chiropractic license
Pass all Part I subjects
NOTE: The NBCE withholds release of official Part III transcripts until you have passed the NBCE Part II Examination.
STATE BOARD REQUIREMENTS
The NBCE recommends a passing score of 375 for the Part III Exam; however, individual states may require a higher score. For example, if a state requires a 75% score on Part III, the corresponding NBCE score is 438. Most states require or accept the Part III Examination in lieu of a state-level written clinical competency examination.
For current information on state regulations pertaining to Part III scores, you must contact the licensing board of the state(s) in which you plan to practice.
RETAKES
The NBCE does not limit the number of times you may retake Part III prior to passing; however, individual licensing authorities may place restrictions on how many times you are allowed to retake Part III. A doctor or a student of chiropractic who has successfully passed Part III is not allowed to retake any previously passed exam, except when required by a state licensing authority. Scores
from retake exams based on this criteria do not void the original passing scores.