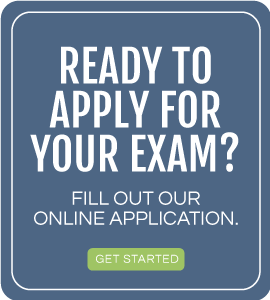 REGISTRATION FOR PARTS I, II, III AND PHYSIOTHERAPY
At registration, you must show two forms of identification, one of which must be a government-issued photo ID.
Registration times are listed on the time schedule. Please note that schedules for paper-and-pencil and computer-based testing formats are different.
If you are taking individual subject(s), and not the entire Part I or Part II Exam, arrive at the test site 15 minutes before the start of the examination(s) to register. NBCE test site personnel keep the official time.
You will receive instructions concerning test procedures prior to the start of your exams.
The NBCE will provide all necessary materials for the exam, including pencils. The NBCE will supply paper for you to write on at computer-based test sites. You may use your test booklets for notes at paper-and-pencil test sites.
Please read the rules and regulations before you arrive for your scheduled test.
You will be permitted to leave the testing area during breaks and lunch. You will be subject to security screening before you re-enter the testing area.
SECURITY SCREENING
You will be subject to individual security screening procedures, including the use of metal detection. If you refuse to submit to individual security screenings, you may be denied entrance to, or be expelled from the testing area.
The only items you will be allowed to bring into the testing area are two forms of identification and a key to your car. Please leave any items that may be questioned by security or test site personnel at home.
You may not bring remote keyless entry devices for your vehicle.
You must use the pencils provided by the NBCE.
Nursing mothers should notify registration staff upon arrival at the test site. They may bring a breast pump and a small cooler (which will be inspected) and may access these items only during scheduled break times between examinations.
DISQUALIFICATION
NBCE examinations are copyrighted. Reproduction of NBCE test questions violates copyright laws and may result in prosecution.
An examinee can be disqualified or permanently prohibited from taking or continuing to take an examination, and his or her scores on an examination or all examinations taken may be withheld, revoked, or invalidated, if the National Board of Chiropractic Examiners (NBCE) test administrator or other NBCE representatives conclude:
The examinee has provided any false or misleading information, committed forgery, or failed to reveal material information in any communication directed to the NBCE, or on any forms submitted to the NBCE.
The examinee takes an examination for another person or another person takes an examination in the examinee's place.
The examinee has given or received aid in the examination as evidenced by observation or statistical analyses of answer sheets.
The examinee has engaged in any act or conduct that jeopardizes or could jeopardize the security or integrity of NBCE examinations; such action or conduct may include, but is not limited to, copying or reproducing any portion of the examination, or memorizing questions and answers and furnishing those memorized questions and/or answers to any other person at any time.
The examinee has engaged in any other conduct that may invalidate the examination results, including, but not limited to, removing items from the testing room.
The examinee has engaged in any behavior that is deemed to be disruptive, offensive or inappropriate in any way to the testing environment.
The NBCE may contact school officials and annotate transcripts of examinees whose conduct is deemed inappropriate or disruptive to the testing process.